My name is Steve Winans and my lifelong association with the trumpet began when I was eight years old. When I went to choose an instrument for band, I was uncertain about which instrument to play. The band director sized me up and said, "You look like a trumpet player." That was enough for me and my musical journey with the trumpet was off and running. As I progressed through school, my interest continued to grow and I was fortunate to have the opportunity to study trumpet with several excellent teachers. First was Luther Didrickson, (CSO, Lyric Opera, etc.) who taught at Northwestern University and, after my family moved to Binghamton NY, I studied with Allen Dean (Yale and St Louis Brass Quintet), who was free-lancing in New York and playing in the New York Brass Quintet at that time.
In 1977 I returned to Chicago to continue my education with Tom Crown at Roosevelt University. My dorm roommate was Bengt Paulsson (Royal Stockholm Philharmonic Orchestra), at school on a scholarship provided by the man who would become my next trumpet instructor, mentor, and boss: Renold Otto Schilke (Chicago Symphony Orchestra '36-'51.) Roosevelt University was only a block away from his factory, where I was fortunate to get a job making and working on some of the worlds finest trumpets. Until his death in 1982, I studied trumpet and was able to learn a great deal about making and repairing trumpets from Renold and the master craftsmen who were employed at his factory at the time. During these earlier years, all trumpet players were welcome at the factory, and top players were always stopping by for repairs, lessons, and socializing. It was heaven for a trumpet geek like myself. This era in the company's history fostered the development of a number of world renowned talented brass instrument technicians, including: Rich Ita, Kevin Powers, Scott Laskey and Ron Pinc, and me, Steve Winans.
I acquired nearly twenty years of valuable experience working in the final assembly group at his (and later his children's) manufacturing plant. During that time I fit the valves of thousands of Renold's trumpets. This was my primary job. I also was responsible for the final quality check and play testing of the instruments. Another aspect of my work there was performing valve jobs on customer's horns. In the earlier years, when the company had a full service repair department, I worked on just about every conceivable make and model of trumpet or cornet. These ranged from fairly common horns such as Bach, Conn, Getzen, and Olds, to less common makes like Benge, Calicchio, and King, to rare and vintage instruments like Distin and Boston cornets, cornopians, and the French Besson flugelhorn of Jon Faddis.
It was because of my expertise in diagnosing and repairing trumpet valve problems that my co-worker, Steve Daniels, the voice on the phone at Renold's company for decades, began referring to me as "Doctor Valve." When the company quit doing repair work on other makes of instruments I was still doing valve jobs to horns of their manufacture as part of my job. In the early 90s, I was fortunate to be able to make special arrangements with Joan and Renold E. (the second generation owners) to use the equipment available at the factory to do valve jobs on other makes on the side. This was the beginning of the trumpet repair and restoration business which is now Doctor Valve.
At Doctor Valve I am able to offer my customers the same great craftsmanship and attention to detail that they have always received from me. The only outsourced work is the actual plating or lacquering, and I use the best in the business. All of my plating is done by Anderson Silver Plating in Elkhart Indiana. Charlie Melk, in West Allis Wisconsin, sprays my lacquer. Attention to detail and customer satisfaction are my primary goals with all work I perform.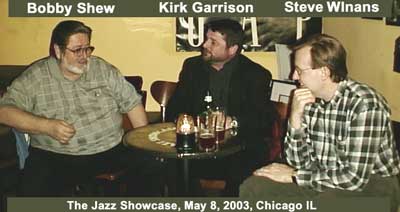 Bobby Shew
Kirk Garrison
Steve Winans
The company owned by Renold Otto Schilke was Schilke Music Products, Inc., manufacturers of Schilke trumpets and mouthpieces.
About The Doctor Valve Shop
Very few instrument repair shops are equipped with the required machinery to properly perform trumpet valve restoration and valve repair work. I have equipped my shop with the industry standard tooling and quality machinery and equipment used by many top brass instrument manufacturers. This includes a Sunnen hone, an industrial lathe, a Baldor buffer, a Peterson tuner, and L&R ultrasonic degreasers.
Doctor Valve
479 5th Street, Lemont IL 60439-4115.
voice: 708-482-8153,
---
Thanks to Google Maps, you may get driving directions to the shop
The shop is also accessible from Chicago via public transportation on the suburban Heritage Corridor (HC) Metra train.
Home | Services | Galleries | Clients | About | Shipping | Links | ForSale
the company owned by Renold Otto Schilke was Schilke Music Products, and "Renold's trumpets" refers to Schilke trumpets: the S42, S22, S32, S22C, X3, X4, B1, B2, B3, B4, B5, B6, B7, P5-4, P4, P7, E3L, E2, E3, D1, D2, G1L, and cornets: A1, A2, A2C, XA1, XA7, Eb, etc.
© 2002-2021, Doctor Valve
Most Rights Reserved.